LEVITON POWER EXTENDERS
Increase capacity.
Control 0-10V drivers with line-level controls.
Use line-level controls with 0-10 VDC drivers.
Use Reverse Phase LEDs with Forward Phase dimmers.
---
Additional notes: PE400 vs PE500
Both PE400 and PE500 control reverse phase loads. The differences are:
PE Control

PE400: 120VAC control signal (from forward phase dimmer)
PE500: 0-10V control signal (from DRC or GreenMAX dimming relay)

Loading

PE400 operates at 120VAC only and has a higher amperage rating.
PE500 operates at 120VAC or 277VAC but has a much lower amperage rating.
Appropriate for the lamp is a combination of what's driving the PE and the total load of the track circuit.
Vince Caglianone, MBA, LC
Manager, Applications Engineering, Energy Management, Controls & Automation - Tualatin
12-Dec-2019
---
Basic Wiring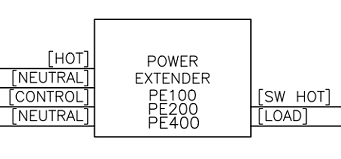 ---
16-Jul-2019 dhopkins@leviton.com